LHCSR3
AS14 2766  |  Clonality: Polyclonal  |  Host: Rabbit  |  Reactivity: Bryopsis corticulans, Chlamydomonas reinhardtii, Nannochloropsis gaditana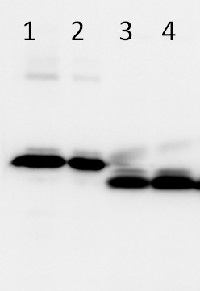 DATA SHEET IN PDF
Product Information
Immunogen
KLH-conjugated synthetic peptide derived from LHCSR3 protein sequence from Chlamydomonas reinhardtii, UniProt: P0DO18
Reconstitution
For reconstitution add 50 µl of sterile water
Storage
Store lyophilized/reconstituted at -20°C; once reconstituted make aliquots to avoid repeated freeze-thaw cycles. Please remember to spin the tubes briefly prior to opening them to avoid any losses that might occur from material adhering to the cap or sides of the tube.
Tested applications
ELISA (ELISA), Western blot (WB)
Recommended dilution
1 : 1000 (WB)
Expected | apparent MW
28 kDa
Reactivity
Confirmed reactivity
Bryopsis corticulans, Chlamydomonas reinhardtii, Nannochloropsis gaditana
Predicted reactivity
Phaeodactylum tricornutum


Species of your interest not listed? Contact us
Not reactive in
Arabidopsis thaliana, Lobosphaera incisa, Marchantia polymorpha, Neochloris oleoabundans, Physcomitrella patens
Application examples
Application examples
Application example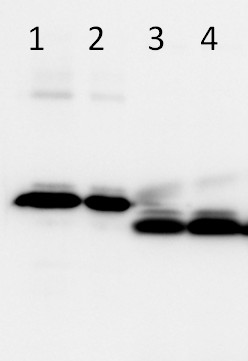 Follwoing samples: 0.1 µg of LhcSR3 IB + HisTag

(1)

, 0.05 µg of LhcSR3 IB + HisTag

(2)

, 5 µg of

Chlamydomonas reinhardtii

wild type (CC124) total protein extract of photoautotrophically grown cells in light intensity: 60 µE

(3)

, 5 µg of

Chlamydomonas reinhardtii

wild type (CC124) total protein extract of photoautotrophically grown cells in high light intensity: 500 µE

(4)

were separated on 15% Tris-Glycine SDS PAGE and blotted overnight to PVDF using tank transfer. Blots were blocked with 5% BSA/milk for 1h at room temperature (RT) with agitation. Blot was incubated in the primary antibody at a dilution of 1: 1 000 for 1h at RT with agitation. The antibody solution was decanted and the blot was rinsed briefly twice, then washed once for 15 min and 3 times for 5 min in PBS-T at RT with agitation. Blot was incubated in secondary antibody (anti-rabbit IgG horse radish peroxidase conjugated, from Agrisera, 

AS09 602

) diluted to 1:10 000 for 1h at RT with agitation. The blot was washed as above and developed for 5 min with ECL according to the manufacturer's instructions.


Courtesy Dr. Roberta Croce, Biophysics of Photosynthesis Dep. Physics and Astronomy Faculty of Sciences VU University Amsterdam, The Netherlands
Additional information
This antibody is also recognizing recombinant LHCSR1 overexpressed in E.coli as described in Perozeni et al. (2020).
Background
Background
LHCSR3 (Stress-related chlorophyll a/b binding protein 3) plays a role in an efficient enery dissipation process, called non-photochemical quenching (NPQ), in Chlamydomonas reinhardtii. 
Product citations
Selected references
Bohmer et al. (2023) Chlamydomonas reinhardtii mutants deficient for Old Yellow Enzyme 3 exhibit increased photooxidative stress. Plant Direct. 2023;7(1):e480. Published 2023 Jan 15. doi:10.1002/pld3.480
Cazzaniga et al. (2022). Engineering astaxanthin accumulation reduces photoinhibition and increases biomass productivity under high light in Chlamydomonas reinhardtii. Biotechnol Biofuels Bioprod. 2022 Jul 11;15(1):77. doi: 10.1186/s13068-022-02173-3. PMID: 35820961; PMCID: PMC9277849.
Burlacot et al. (2022) Alternative photosynthesis pathways drive the algal CO2-concentrating mechanism. Nature 605, 366-371 (2022). https://doi.org/10.1038/s41586-022-04662-9
Cecchin et al (2021) LPA2 protein is involved in photosystem II assembly in Chlamydomonas reinhardtii. Plant J. 2021 Jul 4. doi: 10.1111/tpj.15405. Epub ahead of print. PMID: 34218480.
Roach et al. (2020). The non-photochemical quenching protein LHCSR3 prevents oxygen-dependent photoinhibition in Chlamydomonas reinhardtii. J Exp Bot. 2020 Jan 16. pii: eraa022. doi: 10.1093/jxb/eraa022.
Gabilly et al. (2019). Regulation of photoprotection gene expression in Chlamydomonas by a putative E3 ubiquitin ligase complex and a homolog of CONSTANS. Proc Natl Acad Sci U S A. 2019 Aug 12. pii: 201821689. doi: 10.1073/pnas.1821689116.
Tian et al. (2019). pH dependence, kinetics and light-harvesting regulation of nonphotochemical quenching in Chlamydomonas. Proc Natl Acad Sci U S A. 2019 Apr 23;116(17):8320-8325. doi: 10.1073/pnas.
Aihara et al. (2019). Algal photoprotection is regulated by the E3 ligase CUL4-DDB1DET1. Nat Plants. 2019 Jan;5(1):34-40. doi: 10.1038/s41477-018-0332-5.
Kong et al. (2018) Interorganelle Communication: Peroxisomal MALATE DEHYDROGENASE2 Connects Lipid Catabolism to Photosynthesis through Redox Coupling in Chlamydomonas. Plant Cell. 2018 Aug;30(8):1824-1847. doi: 10.1105/tpc.18.00361
Jokel et al. (2018). Hunting the main player enabling Chlamydomonas reinhardtii growth under fluctuating light. Plant J. 2018 Mar 25. doi: 10.1111/tpj.13897.
Kosuge et al.(2018). LHCSR1-dependent fluorescence quenching is mediated by excitation energy transfer from LHCII to photosystem I in Chlamydomonas reinhardtii. Proc Natl Acad Sci U S A. 2018 Apr 3;115(14):3722-3727. doi: 10.1073/pnas.1720574115.
Giovagnetti et al. (2018). A siphonous morphology affects light-harvesting modulation in the intertidal green macroalga Bryopsis corticulans (Ulvophyceae). Planta. 2018 Feb 19. doi: 10.1007/s00425-018-2854-5.
Chukhutsina et al. (2017). Photoprotection strategies of the alga Nannochloropsis gaditana. Biochim Biophys Acta. 2017 Jul;1858(7):544-552. doi: 10.1016/j.bbabio.2017.05.003.
Chaux et al. (2017). Flavodiiron Proteins Promote Fast and Transient O2 Photoreduction in Chlamydomonas. Plant Physiol. 2017 Jul;174(3):1825-1836. doi: 10.1104/pp.17.00421.
Wei et al. (2017). Light Intensity is Important for Hydrogen Production in NaHSO3-Treated Chlamydomonas reinhardtii. Plant Cell Physiol. 2017 Mar 1;58(3):451-457. doi: 10.1093/pcp/pcw216.
Garibay-Hernandez et al. (2016). Membrane proteomic insights into the physiology and taxonomy of an oleaginous green microalga. Plant Physiol. 2016 Nov 8. pii: pp.01240.2016. [Epub ahead of print]
Haraldsdottir (2016). Protection against UV rays and other desirable biological activity in Chlorella sp. and Phaeodactylum tricornutum.