PEPC | Phosphoenolpyruvate carboxylase
AS09 458 | Clonality:Polyclonal | Host:Rabbit | Reactivity: A. comosus, A. thaliana, S. PCC 6803, Ch. velia, F. bidentis, H. vulgare, J. curcas, Lupinus sp. , M. crystallinum, N. tabacum, O. sativa, P. strobus, Saccharum spp. hybrid clone C91-301, S. laricifolia, Z. mays, Synechocystis sp. , P. tricornutum (strain CCAP 1055/1), T. weissfloggi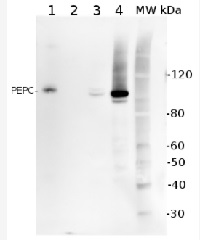 PRODUCT INFORMATION IN PDF
product information

Background

PEPC (phosphoenolpyruvate carboxylase), EC=4.1.1.31, belongs to an enzyme family of carboxy-lyases that is catalyzing adding fo carbon dioxide to phosphoenolpyruvate (PEP) to form oxaloacetate. Alternative names: PEPCase 1, PEPCase 3, PEPC 1, PEPC 3

Immunogen

KLH-conjugated synthetic peptide well conserved PEPC1 and sequences from different plant species including Arabidopsis thaliana Q9MAH0, At1g53310 (PEPC 1), Q84VW9, At3g14940 (PEPC 3). The peptide chosen to elicit this antibody is also perfectly conserved in bacterial type of this enzyme NP_177043.2 (PEPC 4).

For Zea mays, the peptide is converved in PEP1 and PEP4 isoforms.

Host
Rabbit
Clonality
Polyclonal
Clone
Purity
Affinity purified serum in PBS, pH 7.4
Format
Lyophilized
Quantity
50 µg
Reconstitution
For reconstitution add 50 µl of sterile water.
Storage
Store lyophilized/reconstituted at -20°C; once reconstituted make aliquots to avoid repeated freeze-thaw cycles. Please, remember to spin tubes briefly prior to opening them to avoid any losses that might occur from lyophilized material adhering to the cap or sides of the tubes.Please do not re-use this primary antibody solution. In case of cyanobacterial samples there will be no signal in your second incubation.
Tested applications
Immunolocalization (IL), Western blot (WB)
Related products

AS07 241 | anti-PEPCK | PEP carboxy kinase

Additional information
application information

Recommended dilution
1 : 500 (IL), 1 : 1000 (WB)
Expected | apparent MW

110 | 105 kDa

Confirmed reactivity
Ananas comosus, Arabidopsis thaliana, Cenchrus ciliaris, Chloris gayana, Chromera velia, Hordeum vulgare, Jatropha curcas, Leptochloa fusca, Lupinus sp. , Megathyrsus maximus, Mesembryanthemum crystallinum, Nicotiana tabacum, Oryza sativa, Panicum antidotale, Panicum coloratum, Pinus strobus, Saccharum spp. hybrid clone C91-301, Salsola lanata, Salsola laricifolia, Sorghum bicolor, Synechocystis PCC 6803, Phaeodactylum tricornutum (strain CCAP 1055/1), Thalassiosira weissfloggi, Zea mays, Zostera muelleri

Predicted reactivity

Cucumis sativus (PEPC1, PEPC2, PEPC3), Flaveria bidentis, Flaveria trinervia, Glycine max, Lupinus albus, Mammillaria thornberi, Manihot obovata, Medicago sativa, Morinda citrifolia, Nopalea gaumeri, Opuntia macbridei, Pachycereus pringlei, Solanum tuberosum, Spinacia oleracea, Streptanthus tortuosus, Pachycereus hollianus, Pisum sativa, Phaseolus vulgaris,Triticum aestivum,  algae, diatoms: Thalassiosira pseudonana, other species: Salmonella sp., Schiedea hookeri, Shigella sp. Schiedea sarmentosa, Streptanthus farnsworthianus, Tacinga saxatilis,Yersinia sp. Vibrio sp.

Not reactive in
No confirmed exceptions from predicted reactivity are currently known.
Additional information
Antibody can be also used following 2D gel electrophoresis.
Selected references
Sonawane et al. (2018). Shade compromises the photosynthetic efficiency of NADP-ME less than PEP-CK and NAD-ME C 4 grasses. J Exp. Botany, doi.org/10.1093/jxb/ery129.
Wen et al. (2017). Possible involvement of phosphoenolpyruvate carboxylase and NAD-malic enzyme in response to drought stress. A case study: A succulent nature of the C4-NAD-ME type desert plant, Salsola lanata (Chenopodiaceae). Functional Plant Biology 44(12), DOI10.1071/FP16430
Jiang et al. (2017). Development of an Efficient Protein Extraction Method Compatible with LC-MS/MS for Proteome Mapping in Two Australian Seagrasses Zostera muelleri and Posidonia australis. Frontiers in Plant Science, doi: 10.3389/fpls.2017.01416.
Liu et al. (2017). Plasma Membrane CRPK1-Mediated Phosphorylation of 14-3-3 Proteins Induces Their Nuclear Import to Fine-Tune CBF Signaling during Cold Response. Mol Cell. 2017 Apr 6;66(1):117-128.e5. doi: 10.1016/j.molcel.2017.02.016.
Ribeiro et al. (2017). Increased sink strength offsets the inhibitory effect of sucrose on sugarcane photosynthesis. J Plant Physiol. 2017 Jan;208:61-69. doi: 10.1016/j.jplph.2016.11.005.
Shen et al. (2016). The existence of C4-bundle-sheath-like photosynthesis in the mid-vein of C3 rice. Rice (N Y). 2016 Dec;9(1):20. doi: 10.1186/s12284-016-0094-5. Epub 2016 May 10.
Ishikawa et al. (2016). NDH-Mediated Cyclic Electron Flow Around Photosystem I is Crucial for C4 Photosynthesis. Plant Cell Physiol. 2016 Aug 6. pii: pcw127. [Epub ahead of print]
Shen et al. (2015). Overexpression of maize phosphoenolpyruvate carboxylase improves drought tolerance in rice by stabilization the function and structure of thylakoid membrane. Photosynthetica, September 2015, Volume 53, Issue 3, pp 436-446.
Foley et. al (2015). Analysis of conglutin seed storage proteins across lupin species using transcriptomic, protein and comparative genomic approaches. BMC Plant Biology 2015, 15:106 doi:10.1186/s12870-015-0485-6.
Application example


5 µg of total protein from (1) Arabidopsis thaliana leaf extracted with Protein Extration Buffer, PEB (AS08 300), (2) Spinacia oleracea total cell, extracted with PEB, (3) Hordeum vulgare total cell extracted with PEB, (4) Zea mays total cell extracted with PEB, were separated on 4-12% NuPage (Invitrogen) LDS-PAGE and blotted 1h to PVDF. Blots were blocked immediately following transfer in 2% ECL Advance blocking reagent (GE Healthcare) in 20 mM Tris, 137 mM sodium chloride pH 7.6 with 0.1% (v/v) Tween-20 (TBS-T) for 1h at room temperature with agitation. Blots were incubated in the primary antibody at a dilution of 1: 10 000 for 1h at room temperature with agitation. The antibody solution was decanted and the blot was rinsed briefly twice, then washed once for 15 min and 3 times for 5 min in TBS-T at room temperature with agitation. Blots were incubated in secondary antibody (anti-rabbit IgG horse radish peroxidase conjugated) diluted to 1:50 000 in 2% ECL Advance blocking solution for 1h at room temperature with agitation. The blots were washed as above and developed for 5 min with ECL Advance detection reagent according the manufacturers instructions. Images of the blots were obtained using a CCD imager (FluorSMax, Bio-Rad) and Quantity One software (Bio-Rad).



 



---
||| For other applications, usage on species other than stated above or any other questions, please use the LiveChat option or contact us at support@agrisera.com