PIF4 | Phytochrome interacting factor 4 (goat antibody)
AS16 3955 | Clonality: Polyclonal | Host: Goat | Reactivity: Arabidopsis thaliana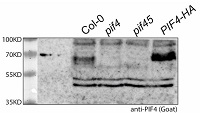 DATA SHEET IN PDF
Product Information
Immunogen
KLH-conjugated peptide derived from Arabidopsis thaliana PIF4, UniProt:Q8W2F3, TAIR:AT2G43010
Purity
Immunogen affinity purified serum in PBS pH 7.4.
Reconstitution
For reconstitution add 50 ĩl of sterile water
Storage
Store lyophilized/reconstituted at -20°C; once reconstituted make aliquots to avoid repeated freeze-thaw cycles,Please remember to spin the tubes briefly prior to opening them to avoid any losses that might occur from material adhering to the cap or sides of the tube.
Tested applications
Western blot (WB)
Recommended dilution
1 : 1000 (WB)
Expected | apparent MW
48,3 | 60 kDa
Reactivity
Confirmed reactivity
Arabidopsis thaliana
Predicted reactivity
Brassica napus, Brassica rapa, Camelina sativa, Eutrema salsugineum
Species of your interest not listed? Contact us
Not reactive in
Solanum lycopersicum
Application examples
Application examples
Application example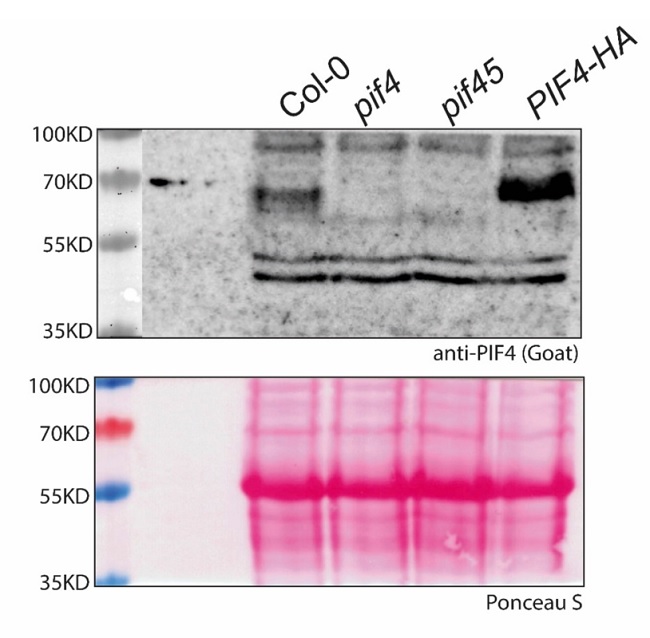 30 ul of total protein from Arabidopsis thaliana grown in 12 hour light/ 12 hour dark growth conditions and 6-day-old seedling samples taken at the end of the day (ZT12) were extracted with 100 mM MOPS, pH 7.6, 100 mM NaCl, 10% glycerol, 40 mM 2-mercaptoethanol, 5% SDS, 1X protease inhibitor cocktail from Roche, 2 mM PMSF. 80 µl buffer were added to about 100 µl grinded powder, then immediately heated at 70ºC for 10 minutes and separated on 8 % Bis-Tris SDS-PAGE and blotted 1h to PVDF using semi-dry or tank transfer. Blots were blocked with 5 % non-fat milk in TBST for 1h at room temperature (RT) with agitation. Blot was incubated in the primary antibody at a dilution of 1: 1 000 for over night at 4ªC with agitation in TBS-T. The antibody solution was decanted and the blot was rinsed briefly twice, then washed once for 15 min and 3 times for 5 min in TBS-T at RT with agitation. Blot was incubated in secondary antibody (anti-goat IgG horse radish peroxidase conjugated) diluted to 1:10 000 in for 1h at RT with agitation. The blot was washed as above and developed for 5 minutes with chemiluminescent detection reagent. Exposure time was 1 minute.

Courtesy of Dr. Bo Zhang, Umeå Plant Science Centre, Sweden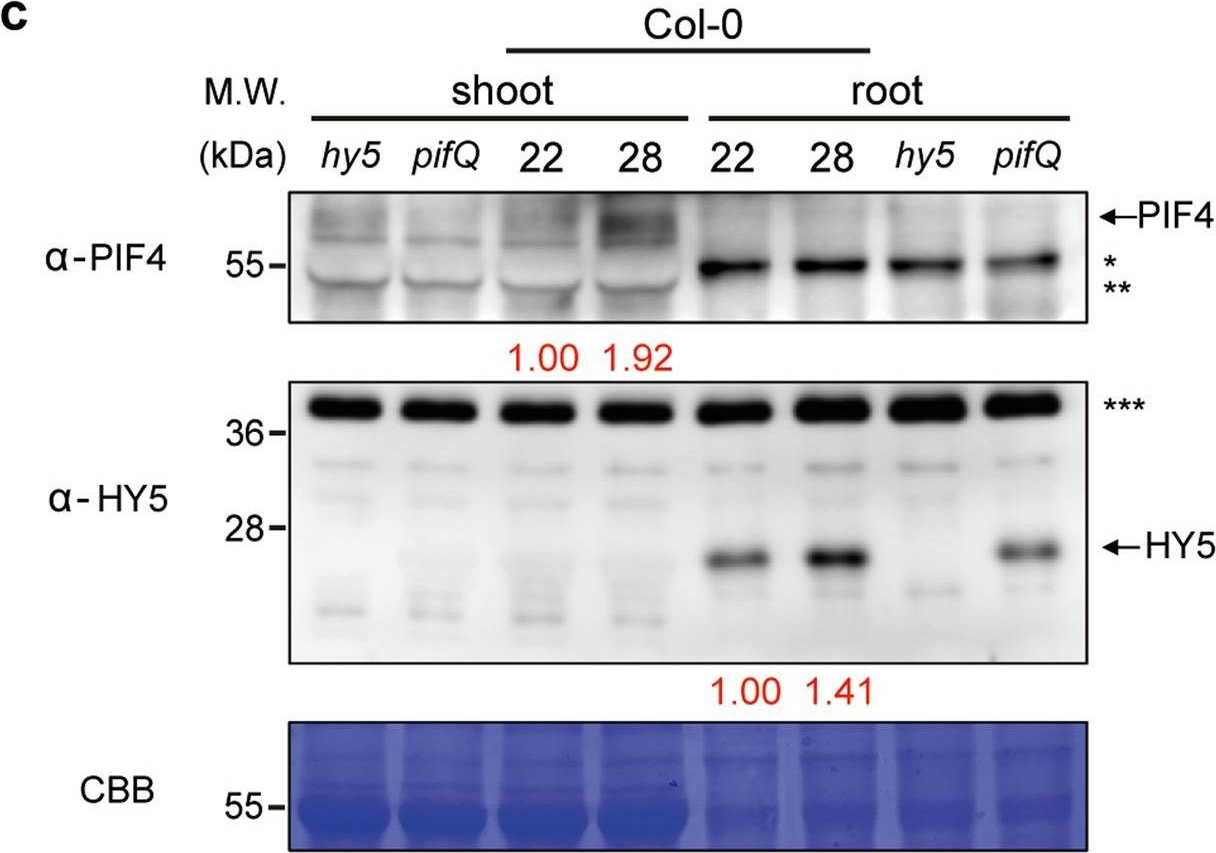 Reactant: Arabidopsis thaliana (Thale cress)
Application: Western Blotting
Pudmed ID: 34135347
Journal: Nat Commun
Figure Number: 6C
Published Date: 2021-06-16
First Author: Lee, S., Wang, W., et al.
Impact Factor: 13.783
Open Publication
The expression and stability of PIF4 and HY5 are spatially regulated.a, b RT-qPCR analysis of HY5 and PIF4. RT-qPCR samples were from Col-0 whole seedlings, shoot or root grown for 5 days at 22?°C and then either kept at 22?°C or transferred to 28?°C for 4?h. Three biological repeats were performed. Relative gene expression levels were normalized using the expression levels of ACT7 as well as the expression levels of shoot. Asterisks indicate statistically significant difference using two-sided Student's t-test; **p?0.01. P values for HY5 root 22 vs 28: 0.0009, PIF4 whole seedlings: 0.0005, PIF4 shoot: 0.0004, respectively. Error bars indicate SD (n?=?3). c Western blots show the level of native PIF4 and HY5 in the shoot and root samples separated from whole seedlings grown for 5 days at 22?°C and then either kept at 22?°C or transferred to 28?°C for 4?h. hy5-215 and pifQ were used as negative controls. * and ** indicate root and shoot specific cross-reacting bands. *** indicate cross-reacting band in HY5 blot. Red numbers indicate the relative values for PIF4 or HY5 band divided by the cross-reacting band. Two independent experiments were repeated with similar results. d Simplified scheme showing spatial regulation of thermomorphogenesis by distinct transcription factor-kinase module. PIF4 and HY5 are main hub transcription factors in the shoot and root thermomorphogenesis, respectively, while PIF4 and HY5 both contribute to hypocotyl thickness. The abundance and/or activity of PIF4 and HY5 are regulated by SPA-mediated phosphorylation. As a thermosensor, phyB directly inhibits PIF4 and indirectly stabilizes HY5 to coordinately regulate shoot and root thermomorphogenesis.
Additional information
Additional information
PIF proteins are not that stable, therefore special precautions should be taken during extraction and whole procedure should be performed in as little light as possible (light green light).

Extraction of PIF proteins is described in Shen et al. (2007).
Material used need to be up to 8 days old as detection in older rosette leaf may fail
Background
Background
PIF4 (PHYTOCHROME INTERACTING FACTOR 4) is a transcription factor involved in the phytochrome B signaling pathway. Interacts with APRR1/TOC1 and PIF3 and binds to EGL2 and RGA. Alternative names: AtPIF4, Basic helix-loop-helix protein 9, AtbHLH9, bHLH 9, SRL2, Short under red-light 2, EN102, Transcription factor EN 102, bHLH transcription factor bHLH009.
Product citations
Selected references
Fang et al. (2022) TANDEM ZINC-FINGER/PLUS3 regulates phytochrome B abundance and signaling to fine-tune hypocotyl growth. Plant Cell. 2022;34(11):4213-4231. doi:10.1093/plcell/koac236
Bajracharya, Xi, Grace, et al. (2022) PHYTOCHROME-INTERACTING FACTOR 4/HEMERA-mediated thermosensory growth requires the Mediator subunit MED14. Plant Physiol. 2022;190(4):2706-2721. doi:10.1093/plphys/kiac412
Agrawal et al. (2022) MEDIATOR SUBUNIT17 integrates jasmonate and auxin signaling pathways to regulate thermomorphogenesis. Plant Physiol. 2022 Aug 1;189(4):2259-2280. doi: 10.1093/plphys/kiac220. PMID: 35567489.
Lee at al. (2021) Spatial regulation of thermomorphogenesis by HY5 and PIF4 in Arabidopsis. Nat Commun. 2021 Jun 16;12(1):3656. doi: 10.1038/s41467-021-24018-7. PMID: 34135347; PMCID: PMC8209091.
Lee, Paik & Huq. (2020). SPAs promote thermomorphogenesis by regulating the phyB-PIF4 module in Arabidopsis. Development. 2020 Oct 8;147(19):dev189233. doi: 10.1242/dev.189233. PMID: 32994167; PMCID: PMC7561471.
Sun et al. (2019). SHB1 and CCA1 interaction desensitizes light responses and enhances thermomorphogenesis. Nat Commun. 2019 Jul 15;10(1):3110. doi: 10.1038/s41467-019-11071-6.

Related products: PIF4 | Phytochrome interacting factor 4 (goat antibody)