Amyloid beta oligomer-specific monoclonal antibody (OMAB)
AS10 932 | Clonality: monoclonal | Host: Mouse | Reactivity: amyloid beta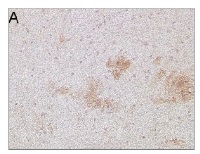 DATA SHEET IN PDF
Product Information
Immunogen
partly aggregated, recombinant peptide corresponding to the human Abeta (1-40/42), Amino acid sequence: D-A-E-F-R-H-D-S-G-Y-E-V-H-H-Q-K-L-V-F-F-A-E-D-V-G-S-N-K-G-A-I-I-G-L-M-V-G-G-V-V, The epitope is 3-8, Molecular weight of immunogen is 4,5 kDa,
Purity
Affinity purified in PBS pH 7.4.
Reconstitution
For reconstitution add 100 ĩl of sterile water
Storage
Store lyophilized/reconstituted at 4°C. Please remember to spin the tubes briefly prior to opening them to avoid any losses that might occur from material adhering to the cap or sides of the tube.
Tested applications
ELISA (ELISA), Immunofluorescence (IF), Immunohistochemistry (IHC)
Recommended dilution
Coating antibody at 2 µg/ml (ELISA), 1: 1000 (IF), 1 : 500 (IHC)
Expected | apparent MW
4,5 kDa
Reactivity
Confirmed reactivity
Human Abeta oligomers only
Not reactive in
No confirmed exceptions from predicted reactivity are currently known
Application examples
Application examples
Application example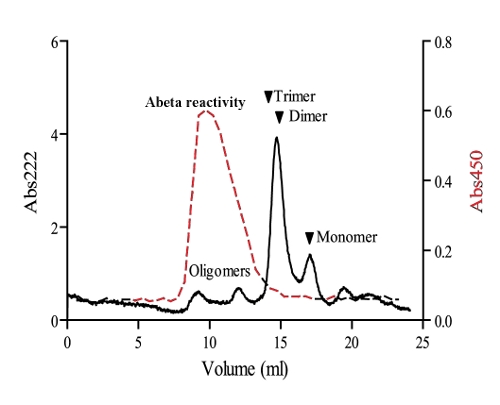 Abeta oligomer-specific antibody was adsorbed to Nunc-Immuno MaxiSorp plates (Nunc, Roskilde, Denmark) at 2 ug/ml in PBS. 1 ml of a 10 uM Aβ(1-42) sample containing a small fraction of Aβ-oligomers was separated using a superdex G75 (10/30) column. Aβ-fractions collected from the SEC were allowed to bind to OMAB plates for 20 minutes at 0°C. All fractions were analyzed and bound Aβwas detected using a polyclonal rabbit anti-Aβ antibody (AS08 328), Agrisera AB, Vännäs, Sweden) at a 1:1000 dilution followed by an anti-rabbit HRP-conjugated secondary antibody at a 1:5000 dilution (GE healthcare). ECBlue (Medicago, Uppsala, Sweden) was used as a substrate for HRP and the signal was detected by measuring the absorbance at 450 nm. Blocking solution and antibody-dilutions were made with 5% Non-fat dry milk in PBST and all washes were performed with PBS containing 0.1% Tween-20 (PBST).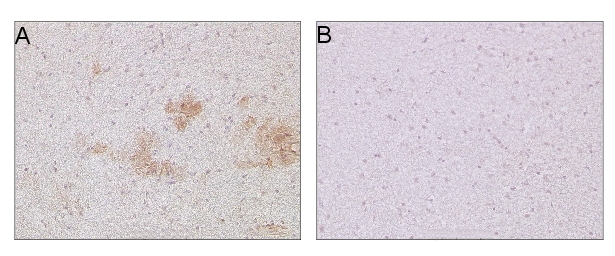 10 µm of coronal sections from fresh-frozen transgenic mouse brain mutant (A) and wild type (B). Post-fixation in 4% formaldehyde solution, 5 min. OMAB antibody diluted 1:500, incubation at 4ºC ON. Mouse on mouse HRP-Polymer kit according to company instructions. Biocare Medical: BC-MM510 (Histolab) DAB substrate kit for peroxidase. Vector Laboratories: SK-4100 (ImmunKemi) Counterstained with Mayers HTX.
Additional information
Additional information
OMAB antibody has been purified by by ion-exchange chromatography and is supplied in PBS without any additives as carrier proteins or sodium azide.
Binding of OMAB antibody and Abeta oligomers at RT takes about 15 min.

Fibrils are inaccessible for OMAB antibodies therefore if a discrimination between fibrils and oligomers is to be achieved, dot blot can be used. Start with antigen concentration of 500 ng/dot followed by 2X dilution steps. Blocking: non-fat milk and washes with 0.3 % Tween 20 in TBS pH 7.4.
OMAB antibody is a versatile tool within research of Alzheimer's disease, A sandwhich ELISA illustrates its potential regarding its high selectivity towards A? oligomers
Background
Background
Soluble oligomeric assemblies of the Amyloid-β peptide are today anticipated to be the direct cause regarding the Alzheimer pathology. As a consequence, oligomeric Aβ-assemblies constitute a very interesting therapeutic target. Identification of Aβ-oligomers is however, technically challenging due to there labile nature and low abundance. Abeta oligomer-specific OMAB antibody is based on the IgM isotype and represents a new concept of Aβ-oligomer binders using a combination of high avidity and very low monovalent affinity. This combination creates a selectivity of the antibody towards the oligomeric fraction and minimizes reactivity towards monomeric species.
Product citations
Selected references
Pang et al (2021) An App knock-in rat model for Alzheimer's disease exhibiting A? and tau pathologies, neuronal death and cognitive impairments. Cell Res. 2021 Nov 17. doi: 10.1038/s41422-021-00582-x. Epub ahead of print. PMID: 34789895.
Oh et al. (2020). Associative Interactions among Zinc, Apolipoprotein E, and Amyloid-? in the Amyloid Pathology. Int J Mol Sci. 2020 Jan 25;21(3). pii: E802. doi: 10.3390/ijms21030802.
Henning-Knechtel et al. (2020). Designed Cell-Penetrating Peptide Inhibitors of Amyloid-beta Aggregation and Cytotoxicity. Cell Reports Physical Science,Volume 1, Issue 2, 26
Zhang et al. (2019). Brains of rhesus monkeys display A? deposits and glial pathology while lacking A? dimers and other Alzheimer's pathologies. Aging Cell. 2019 Jun 4:e12978. doi: 10.1111/acel.12978.
Kumar et al. (2018). Peptidomimetic-Based Multidomain Targeting Offers Critical Evaluation of A? Structure and Toxic Function. J Am Chem Soc. 2018 May 30;140(21):6562-6574. doi: 10.1021/jacs.7b13401.
Kumar et al. (2017). Foldamer-Mediated Structural Rearrangement Attenuates A? Oligomerization and Cytotoxicity. J Am Chem Soc. 2017 Nov 29;139(47):17098-17108. doi: 10.1021/jacs.7b08259.
Zhao et al. (2016). Antiamyloidogenic Activity of A?42-Binding Peptoid in Modulating Amyloid Oligomerization. Small. 2016 Oct 7. doi: 10.1002/smll.201602857.
Richman et al. (2013). In Vitro and Mechanistic Studies of an Anti-Amyloidogenic Self-Assembled Cyclic D,L-#-Peptide Architecture. J. Americal Chemical Societ, Jan 19.
Lindhagen-Persson et al. (2010). Amyloid-? Oligomer Specificity Mediated by the IgM Isotype – Implications for a Specific Protective Mechanism Exerted by Endogenous Auto-Antibodies. PLoS ONE.

Related products: Amyloid beta oligomer-specific monoclonal antibody (OMAB)