Human Novel Coronavirus Spike glycoprotein(S)
AS20 4389 | Recombinant protein (positive control)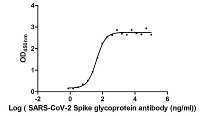 DATA SHEET IN PDF
Product Information
Storage
Store lyophilized/reconstituted at -20°C/-80°C. Reconstitute in deionized sterile water to a concentration from 0.1-1.0 mg/ml and add 5-50% of glycerol (final concentration). 50 % glycerol is a default final recommended concentration. Make aliquots to avoid repeated freeze-thaw cycles. Please remember to spin the tubes briefly prior to opening them to avoid any losses that might occur from material adhering to the cap or sides of the tube. Working aliquotes can be stored at 4℃ for up to one week.Shelf life of liquid form is 6 monthss at -20°C/-80°C. The shelf life of lyophilized form is 12 months at -20°C/-80°C.
Tested applications
ELISA (ELISA)
Application examples
Application examples
Application example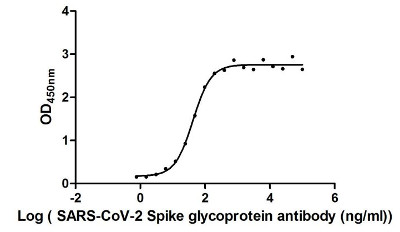 Functional ELISA showing binding ability. Wells were coated with  SARS-CoV-2-S at 2 μg/ml which can bind SARS-CoV-2-S Antibody (AS20 4386), the EC50 of SARS-CoV-2-S protein is 36.79-48.87 ng/ml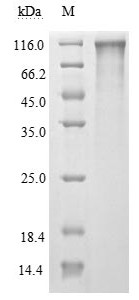 Recombinant Human Novel Coronavirus Spike glycoprotein (S) was separated on Tris-Glycine gradient SDS-PAGE in reduced conditions. Calculated MW of a target protein is 79.6 kDa, however it migrates at 116 kDa in applied conditions due to glycosylation.
Additional information
N-terminal His tagged Spike glycoprotein (S) (10xHis) and C-terminal FLAG-tagged, was overexpressed in HEK293 mammalian cells using transfection reagent, in the region 16-685 amino acids UniProt: P0DTC2

VNLTTRTQLPPAYTNSFTRGVYYPDKVFRSSVLHSTQDLFLPFFSNVTWFHAIHVS
GTNGTKRFDNPVLPFNDGVYFASTEKSNIIRGWIFGTTLDSKTQSLLIVNNATNV
VIKVCEFQFCNDPFLGVYYHKNNKSWMESEFRVYSSANNCTFEYVSQPFLMDL
EGKQGNFKNLREFVFKNIDGYFKIYSKHTPINLVRDLPQGFSALEPLVDLPIGINI
TRFQTLLALHRSYLTPGDSSSGWTAGAAAYYVGYLQPRTFLLKYNENGTITDAVD
CALDPLSETKCTLKSFTVEKGIYQTSNFRVQPTESIVRFPNITNLCPFGEVFNATR
FASVYAWNRKRISNCVADYSVLYNSASFSTFKCYGVSPTKLNDLCFTNVYADSF
VIRGDEVRQIAPGQTGKIADYNYKLPDDFTGCVIAWNSNNLDSKVGGNYNYLY
RLFRKSNLKPFERDISTEIYQAGSTPCNGVEGFNCYFPLQSYGFQPTNGVGYQP
YRVVVLSFELLHAPATVCGPKKSTNLVKNKCVNFNFNGLTGTGVLTESNKKFLPF
QQFGRDIADTTDAVRDPQTLEILDITPCSFGGVSVITPGTNTSNQVAVLYQDVN
CTEVPVAIHADQLTPTWRVYSTGSNVFQTRAGCLIGAEHVNNSYECDIPIGAGI
CASYQTQTNSPRRAR

Purity: >85 % as confirmed by SDS-PAGE
Buffer: 0.2 μm filtered 20 mM Tris-HCl, 0.5 M NaCl, 6% Trehalose, pH 8.0
Background
Background
SARS-CoV-2/ 2019-nCoV S protein of Novel Coronavirus (human) 

its role is to attache the virion to the cell membrane by interacting with host receptor (ACE2) and initiating the infection.

Alternative names: S, S1, S1-RBD, Spike glycoprotein.
Related products: Human Novel Coronavirus Spike glycoprotein(S)