PsbD | D2 protein of PSII
AS06 146  |  Clonality: Polyclonal  |  Host: Rabbit  |  Reactivity: [global antibody] for A. thaliana, Anabaena 7120, D. brightwellii, H. vulgare, C.reinhardtii, C. zofingiensis, L. corniculatus, N. tabacum, O. sativa, P. sativum, P. vulgaris, P. tricornutum, T. pratense, S. alba, Synechococcus sp. PCC 7942, Synechocystis sp. PCC6803, T. guillardii, T. pseudonana, Triticale, U. prolifera, Z. mays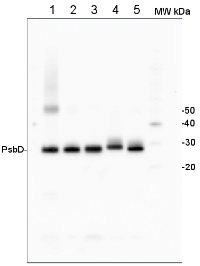 DATA SHEET IN PDF
Product Information
Immunogen
KLH-comjugated synthetic peptide derived from the C-terminal of known PsbD sequences including Arabidopsis thaliana P56761, Hordeum vulgare P11849, Chlamydomonas reinhardtii P06007, Synechococcus sp. PCC 7002 P20898

Reconstitution
For reconstitution add 50 µl of sterile water.
Storage
Store lyophilized/reconstituted at -20°C; once reconstituted make aliquots to avoid repeated freeze-thaw cycles. Please, remember to spin tubes briefly prior to opening them to avoid any losses that might occur from lyophilized material adhering to the cap or sides of the tubes.
Tested applications
Western blot (WB)
Recommended dilution
1 : 5000 (WB)
Expected | apparent MW
39.4 | 28-30 kDa
Reactivity
Confirmed reactivity
Arabidopsis thaliana, Anabaena 7120, Ditylum brightwellii, Horderum vulgare, Chlamydomonas reinhardtii, Chromochloris zofingiensis, Emiliania huxleyi, Lotus corniculatus, Nicotiana tabacum, Oryza sativa, picocyanobacteria, Pisum sativum, Phaseolus vulgaris, Phaeodactylum tricornutum, Trifolium pratense, Skeletonema costatum (diatom), Sinapsis alba, Synechococcus sp. PCC 7942, Synechocystis sp. PCC6803, Thalassiosira guillardii, Thalassiosira pseudonana, Triticale, Ulva prolifera

Predicted reactivity
Aegilops tauschii, Brassica napus, Cannabis sativa, Capsicum annuum, Centrolepsis monogyna, Chromera velia,  Fischerella sp., Glycine max, Glycine soja, Crocosphaera watsonii, Leiosporoceros dussii, Cucumis sativa, Manihot esculenta, Microcystis aeruginosa, Nannochloropsis, Panax ginseng, Petermannia cirrosa, Pinus thunbergii, Physcomitrella patens, Populus trichocarpa, Ricinus communis, Solanum tuberosum,  Spinacia oleracea, Solanum lycopersicum. Triticum aestivum, Utricularia alpina, Vitis vinifera, Vitrella brassicaformis, Zea mays

Species of your interest not listed? Contact us
Not reactive in
No confirmed exceptions from predicted reactivity are currently known.
Application examples
Application examples
Application example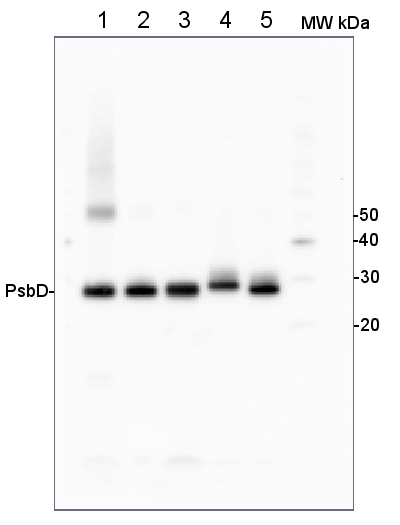 2 µg of total protein from (1) Arabidopsis thaliana leaf extracted with Agrisera Protein Extraction Buffer, PEB (AS08 300), (2) Hordeum vulgare leaf extracted with PEB, (3) Chlamydomonas reinhardtii total cell extracted with PEB, (4) Synechococcus sp. 7942 total cell extracted with PEB, (5) Anabaena sp. total cell extracted with PEB were separated on  4-12% NuPage (Invitrogen) LDS-PAGE and blotted 1h to PVDF. Blots were blocked immediately following transfer in 2% blocking reagent in 20 mM Tris, 137 mM sodium chloride pH 7.6 with 0.1% (v/v) Tween-20 (TBS-T) for 1h at room temperature with agitation. Blots were incubated in the primary antibody at a dilution of 1: 50 000 for 1h at room temperature with agitation. The antibody solution was decanted and the blot was rinsed briefly twice, then washed once for 15 min and 3 times for 5 min in TBS-T at room temperature with agitation. Blots were incubated in secondary antibody (anti-rabbit IgG horse radish peroxidase conjugated, recommended secondary antibody AS09 602) diluted to 1:50 000 in 2% blocking solution for 1h at room temperature with agitation. The blots were washed as above and developed for 5 min with chemiluminescence detection reagent of extreme femtogram sensitivity, according the manufacturers instructions. Images of the blots were obtained using a CCD imager (FluorSMax, Bio-Rad) and Quantity One software (Bio-Rad). Exposure time was 3 seconds.


Additional information
Additional information
The peptide used to elicit this antibody has a perfect conservation across all full-length PsbD sequences from higher plants, lower plants, cyanobacteria and unicellular algae except:  minor substitutions in some Prochlorococcus & Dinoflagellate sequences. The antibody should still work against these taxa, but it has not been tested yet.  This antibody does not detect PsbA protein (D1).

This product can be sold containing ProClin if requested.
There is a confirmed cross-reaction with TLA1 protein in Chlamydomonas reinhardtii.
For samples with a very low PSII content theremight be detection problems independent of the antibody. PSII proteins can vary in level depending upon liquid culture conditions. When the cells are in a stationary phase PSII content can drop to a very low level.


Background
Background
D2 protein (PsbD) forms the reaction core of PSII (Photosystem II) as a heterodimer with the D1 protein (PsbA). PsbD is homologous to the D1 protein, with slightly higher molecular mass of about 39.5 kDa. Accumulation of D2 protein is an important step in the assemply of the PSII reaction centre complex.
Product citations
Selected references
Cecchin et al (2021) LPA2 protein is involved in photosystem II assembly in Chlamydomonas reinhardtii. Plant J. 2021 Jul 4. doi: 10.1111/tpj.15405. Epub ahead of print. PMID: 34218480.
Chen, Liu & Liu (2021) Loss-Function of EGY1 Results in Photosynthesis Damage through Reducing Stability of Photosystem II in Arabidopsis thaliana. Russ J Plant Physiol (2021). https://doi.org/10.1134/S1021443721060029
Li et al. (2021). Physiological responses of Skeletonema costatum to the interactions of seawater acidification and the combination of photoperiod and temperature. Biogeosciences, 18, 1439–1449, 2021 https://doi.org/10.5194/bg-18-1439-2021
Pipitone et al. (2021). A multifaceted analysis reveals two distinct phases of chloroplast biogenesis during de-etiolation in Arabidopsis. Elife. 2021 Feb 25;10:e62709. doi: 10.7554/eLife.62709. PMID: 33629953; PMCID: PMC7906606.
Amstutz et al. (2020). An atypical short-chain dehydrogenase–reductase functions in the relaxation of photoprotective qH in Arabidopsis. Nat Plants , 6 (2), 154-166
Wang et al. (2020) Rerouting of ribosomal proteins into splicing in plant organelles. BioRxiv, DOI: 10.1101/2020.03.03.974766 . BN-PAGE
Swift et al. (2020). Functional Analysis of PSRP1, the Chloroplast Homolog of a Cyanobacterial Ribosome Hibernation Factor. Plants (Basel). 2020 Feb 6;9(2). pii: E209. doi: 10.3390/plants9020209.
Koh et al. (2019). Heterologous synthesis of chlorophyll b in Nannochloropsis salina enhances growth and lipid production by increasing photosynthetic efficiency. Biotechnol Biofuels. 2019 May 14;12:122. doi: 10.1186/s13068-019-1462-3. eCollection 2019.
Pralon et al. (2019). Plastoquinone homoeostasis by Arabidopsis proton gradient regulation 6 is essential for photosynthetic efficiency. Commun Biol. 2019 Jun 20;2:220. doi: 10.1038/s42003-019-0477-4.
Dogra et al. (2019). Oxidative post-translational modification of EXECUTER1 is required for singlet oxygen sensing in plastids. Nat Commun. 2019 Jun 27;10(1):2834. doi: 10.1038/s41467-019-10760-6.
Kumar et al. (2019). Organic radical imaging in plants: Focus on protein radicals. Free Radic Biol Med. 2019 Jan;130:568-575. doi: 10.1016/j.freeradbiomed.2018.10.428.
Lv et al. (2019). Uncoupled Expression of Nuclear and Plastid Photosynthesis-Associated Genes Contributes to Cell Death in a Lesion Mimic Mutant. Plant Cell. 2019 Jan;31(1):210-230. doi: 10.1105/tpc.18.00813.
Roth et al. (2019). Regulation of Oxygenic Photosynthesis during Trophic Transitions in the Green Alga Chromochloris zofingiensis. Plant Cell. 2019 Feb 20. pii: tpc.00742.2018. doi: 10.1105/tpc.18.00742.
Krupinska et al. (2019). The nucleoid-associated protein WHIRLY1 is required for the coordinate assembly of plastid and nucleus-encoded proteins during chloroplast development. Planta. 2019 Jan 11. doi: 10.1007/s00425-018-03085-z.
Chen et al. (2018). Mg-dechelatase is involved in the formation of photosystem II but not in chlorophyll degradation in Chlamydomonas reinhardtii. Plant J. 2018 Nov 24. doi: 10.1111/tpj.14174.
Mao at al. (2018). Comparison on Photosynthesis and Antioxidant Defense Systems in Wheat with Different Ploidy Levels and Octoploid Triticale. Int J Mol Sci. 2018 Oct 2;19(10). pii: E3006. doi: 10.3390/ijms19103006.
Partensky et al. (2018). Comparison of photosynthetic performances of marine picocyanobacteria with different configurations of the oxygen-evolving complex. Photosynth Res. 2018 Jun 25. doi: 10.1007/s11120-018-0539-3.
Danilova et al. (2018). Differential impact of heat stress on the expression of chloroplast-encoded genes. Plant Physiol Biochem. 2018 May 23;129:90-100. doi: 10.1016/j.plaphy.2018.05.023.
Myouga et al. (2018). Stable accumulation of photosystem II requires ONE-HELIX PROTEIN1 (OHP1) of the light harvesting-like family. Plant Physiol. 2018 Feb 1. pii: pp.01782.2017. doi: 10.1104/pp.17.01782.
Schöttler et al. (2017). The plastid-encoded PsaI subunit stabilizes photosystem I during leaf senescence in tobacco. J Exp Bot. 2017 Feb 1;68(5):1137-1155. doi: 10.1093/jxb/erx009.
?im et al. (2017). Effect of cell cycle arrest on intermediate metabolism in the marine diatom Phaeodactylum tricornutum. Proc Natl Acad Sci U S A. 2017 Sep 19;114(38):E8007-E8016. doi: 10.1073/pnas.1711642114.
Cantrell and Peers (2017). A mutant of Chlamydomonas without LHCSR maintains high rates of photosynthesis, but has reduced cell division rates in sinusoidal light conditions. PLoS One. 2017 Jun 23;12(6):e0179395. doi: 10.1371/journal.pone.0179395.
Gandini et al. (2017). The transporter SynPAM71 is located in the plasma membrane and thylakoids, and mediates manganese tolerance in Synechocystis PCC6803. New Phytol. 2017 Mar 20. doi: 10.1111/nph.14526.
Yang-Er Chen et al. (2017). Responses of photosystem II and antioxidative systems to high light and high temperature co-stress in wheat. J. of Exp. Botany, Volume 135, March 2017, Pages 45–55.
Yoshida et al. (2016). Hisabori T1.Two distinct redox cascades cooperatively regulate chloroplast functions and sustain plant viability. Proc Natl Acad Sci U S A. 2016 Jul 5;113(27):E3967-76. doi: 10.1073/pnas.1604101113. Epub 2016 Jun 22.
Mazur et al. (2016). Overlapping toxic effect of long term thallium exposure on white mustard (Sinapis alba L.) photosynthetic activity. Mazur et al. BMC Plant Biology (2016) 16:191.
Kowalewska et al. (2016). Three-dimensional visualization of the internal plastid membrane network during runner bean chloroplast biogenesis. Dynamic model of the tubular-lamellar transformation. The Plant Cell March 21, 2016 tpc.01053.2015.

Related products: PsbD | D2 protein of PSII