Home
/
Agrisera Prize 2017 awarded
Blog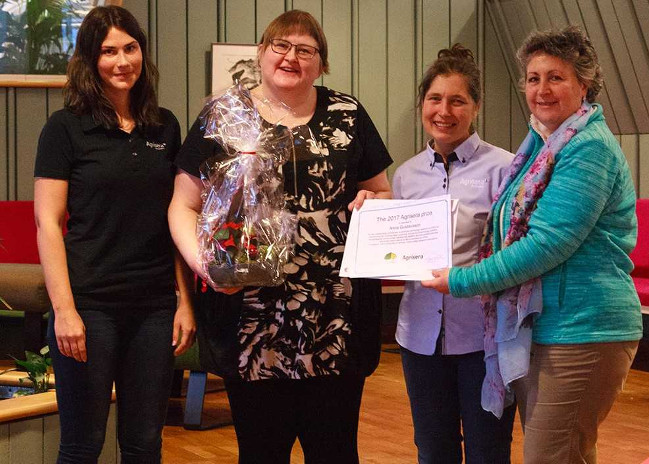 Anna Gustavsson received the UPSC Agrisera Prize 2017 for her contribution to promote cell biology research at
UPSC (Umeå Plant Science Centre)
. Announcement was done during the Christmas lunch.
This year's winner contributed  to develop and improve UPSC confocal laser scanning microscopy/macroscopy platform and the platform services as well as helped to improve work environment at UPSC. Her work was supported by Agrisera products, however this was not required criteria for the nomination.
The UPSC Agrisera Prize is awarded every year to a PhD student, Postdoc or technitian at UPSC for outstanding scientific achievement and contributions to improve the UPSC working environment. This year the prize was presented by Linn Fransson and Joanna Porankiewicz-Asplund from Agrisera and by the chair of the UPSC Catherine Bellini.
From left to right: Linn Fransson (Agrisera), Anna Gustavsson, Joanna Porankiewicz-Asplund (Agrisera), Catherine Bellini (Chair of the UPSC board); photo: Anne Honsel